ATRA Vision Inc. provides advanced Products and Design Services for embedded Machine Vision and Digital Imaging applications. Our featured products include: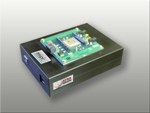 The Scooby2 Platform is a powerful prototyping tool for evaluating the performance of MIPI (CSI2) and SMIA 1.0 (CCP) compliant image sensors. It is a complete Hardware-Firmware-Software package enabling the designer to start applications immediately.
Read more...
CamBLink™ makes it simple to implement 400 & 800 Mbps FireWire&reg in Digital Cameras. GenBLink™ facilitates bidirectional ISO communication via Firewire&reg.
Read more...